Our Faculty 2017
Guest Artists:
---
Gerardo Ribeiro
Violin, Chamber Music
Gerardo Ribeiro has appeared throughout the world as featured soloist with major orchestras including the Philadelphia and Gulbenkian Orchestras...

---
Ann Setzer
Violin, Chamber Music
Ann Setzer received her M.M. degree under a fellowship at the Juilliard School and her D.M.A. at SUNY-Stony Brook where she was granted a quartet fellowship.

---
Jan Mark Sloman
Violin
Jan Mark Sloman is a highly-regarded violinist and dedicated teacher whose multi-faceted career speaks to his passion for the violin, its ability to communicate powerfully, and his desire to develop true artistry in the students he guides.

---
Sally Thomas
Violin
Sally Thomas received her B.S.and M.S. degree at the Juilliard School where she studied with Ivan Galamian.

---
Ivan Ženatý
Violin, Chamber Music, weeks 1-3 and 6-7
Music critics, audiences and musicians are calling Ivan Ženatý one of the most important European violinists. View Ivan Ženatý's 2016-2017 concert schedule: http://www.ivanzenaty.com/concerts

---
Kevork Mardirossian
Violin, Chamber Music, weeks 4 -5
Kevork Mardirossian is The James H. Rudy Professor of Violin at the Indiana University Jacobs School of Music and has performed as concert soloist, recitalist and chamber musician in Bulgaria, the former Soviet Union, Europe and the United States.

---
Patricia McCarty
Viola, Chamber Music
An active proponent of the solo viola, Patricia McCarty has performed in Europe, Japan, Australia, Venezuela and throughout North America, appearing as soloist...

---
Hans Jørgen Jensen
Cello, weeks 1 - 4
Hans Jørgen Jensen received a Soloist Diploma from the Royal Academy of Music in Denmark as a student of Asger Lund Christiansen and studied with Leonard Rose...

---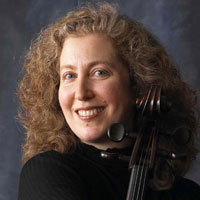 Julia Lichten
Cello, weeks 5 - 7
Julia Lichten, a native of New Haven, Connecticut, graduated from Harvard-Radcliffe (Phi Beta Kappa) and from New England Conservatory (with Honors and Distinction).

---
Jonathan Koh
Cello, Chamber Music
Cellist Jonathan Koh has established himself as one of the most exciting musical entrepreneurs and teachers of his generation. A passionate and dedicated teacher...

---
Eric Larsen
Piano, Chamber Music
Meadowmount Director, Eric Larsen ...He has been heard in the major concert halls of Europe, South America, Russia, Asia and the United States...

---
Kikuei Ikeda
Chamber Music
Kikuei Ikeda, violinist, was born in Yokosuka, Japan. He studied at the Toho Academy of Music with Saburo Sumi and Josef Gingold, as well as chamber music...

---
Steven Rochen
Chamber Music
Steven Rochen...has performed in solo, chamber music, and orchestral performances in the United States, Mexico, and Canada.

---
2017 Guest Artists and Career Specialists
---
Earl Carlyss
Violin, Masterclass, week 3
Meadowmount alumnus Earl Carlyss was a teaching assistant to Ivan Galamian, long time faculty member at the Juilliard School, and former violinist of the Juilliard String Quartet.
---
Ivan Chan
Chamber Music, week 3
Mr. Chan is a Meadowmount alumnus and former first violinist of the acclaimed Miami String Quartet. He has recorded for BMG/Conifer, Music Heritage and CRI labels. In 2011, he was named Senior Lecturer in String Chamber Music at the Hong Kong Academy for Performing Arts.
---
David Geber
Cello, Masterclass, week 7
Soloist and founding member of the American String Quartet. Winner of the Walter W. Naumburg Award and the Coleman Chamber Music Prize. Vice Provost and Dean of Artistic Affairs Manhattan School of Music.
---
Ida Kavafian
Violin, Masterclass
Meadowmount alumna Ida Kavafian is an accomplished soloist and chamber musician, performing with the Chamber Music Society at Lincoln Center since 1972. She teaches at The Curtis Institute of Music, The Juilliard School, and Bard College Conservatory of Music.
---
Ann Schein
Piano, Masterclass, Chamber Music, week 3
Acclaimed concert pianist Ann Schein has performed with major orchestras around the world.
---
Elizabeth Sobol
Workshops on career development
President and CEO of the Saratoga Performing Arts Center, formerly President and CEO of Universal Music Classics and Managing Director of IMG Artists in North/South America
---
Steven Tenenbom
Viola, Masterclass
Violist Steven Tenenbom is a member of the Orion String Quartet and serves on the faculties of The Curtis Institute, The Juilliard School, Mannes College of Music, and Bard College Conservatory of Music.
---
From The Top Auditions and Workshop: Creating an Outreach Program
'From The Top' Radio Show Auditions for students under the age of 18 are held each year at Meadowmount. Also, 'From The Top' Leadership Training Classes on creating an Outreach Program for students age 18 and older is being offered again due to the success of the program last year.
---
Robyn Avalon
Alexander Technique, weeks 1-4
Director of Alexander Technique Teacher Training Programs and has over 30 years of experience, working with professional performing artists, Olympic athletes and equestrians, fitness professionals, fine artists, medical professionals and more worldwide.

---
Accompanying Staff
Jacob Coleman
Tomoko Kashiwagi
Lo-Chien Kao
Chien-Lin Lu
Futaba Niekawa
Chorong Park
---
Musicians Health Seminar

Emily Abruzzi, Registered Yoga Instructor
Additional Offerings: 

Annual Conservatory Fair
Yoga Classes
Body Alignment
Performance Anxiety
Massage by Appointment
Physical Therapy
---
2016 Guest Artists and Career Specialists
---
Paul Katz
Cello, Masterclass


Cellist of the internationally acclaimed Cleveland Quartet and faculty at The New England Conservatory.
---
A Memorial Concert honoring Joseph Silverstein - July 1, 2016


Meadowmount will honor beloved violinist Joseph Silverstein in a special concert featuring faculty and student performances.


---
Kurt Sassmannshaus
Violin, Masterclass
One of today's preeminent violin pedagogues, he holds the distinguished Dorothy Richard Starling Chair for Classical Violin at the University of Cincinnati College-Conservatory of Music.
---
Gerald Klickstein
Author of "The Musician's Way: A Guide to Practice, Performance, and Wellness"
Director of the Music Entrepreneurship and Career Center at the Peabody Conservatory.
---
Thomas Mesa
Cello, Masterclass, Chamber Music
Meadowmount alumnus, grand prize winner of the 2016 Sphinx Competition and member of the St. Petersburg Piano Quartet.
---
"I had a wonderful time at Meadowmount last summer! When I returned home, my private teacher was very impressed with my technical improvement and could hardly get over the difference in my growth as a musician. My Meadowmount teachers were wonderful!"
- Meadowmount student